Kids Karate Classes in CT
Our karate school is in Danbury, CT. Our objective is to make traditional Japanese karate accessible to young students. All students have different abilities, and our instructors view them individually to help them develop at their own pace. Our karate classes contribute to their overall development—their physical, psychological health and their social happiness.
At Connecticut Kanreikai Karate, our kids improve their fitness, learn to listen which leads to better concentration and develop self-confidence. These attributes help them learn to cope with struggles, obstacles and how to meet challenges. We work with our students to build their character and leadership skills.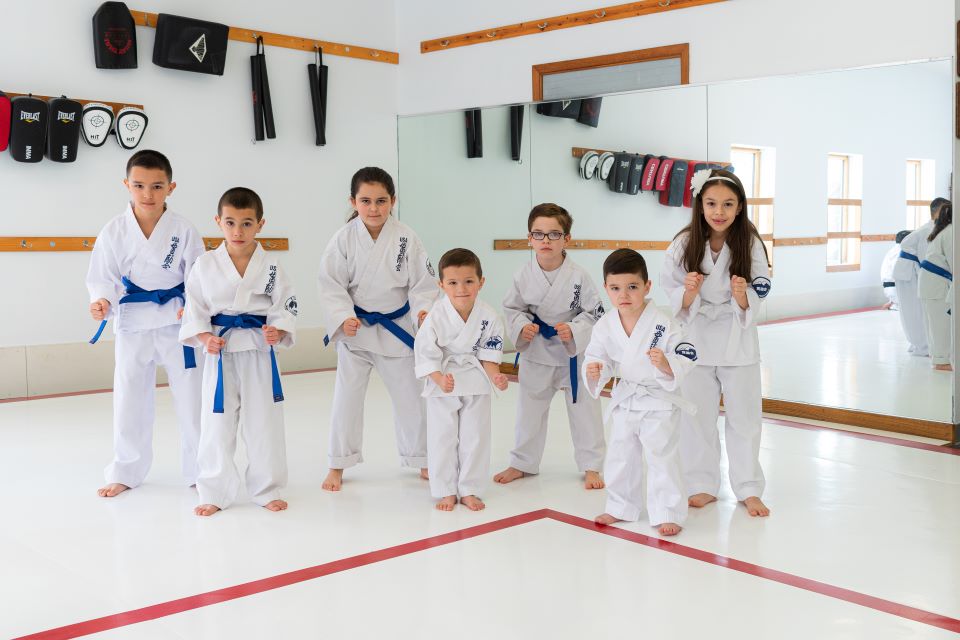 AT KANREIKAI KARATE OF CONNECTICUT…
Children get a fitness workout adapted to their age and abilities
Our priority for young students is for them to discover karate in a safe and positive environment. Our instructors work to maintain class structure, discipline, and respect. You will see your child's self-confidence and motivation keep increasing as they progress. All children improve their balance and coordination and overall fitness with various structured exercises that combine challenges and fun.
Children learn to work hard and defeat challenges they are faced with
The practice of traditional Japanese karate helps kids develop self-discipline, persistence, and determination. With these skills, children become more confident in their abilities and become ready to face their challenges in their everyday lives.
Children learn to direct their energy in a positive way
High energy kids often need to learn how to manage their impulses. Karate teaches kids to gain self-control through the discipline that is gained through our teachings.  It also allows them to consume their energy with our class activities!
Children are welcome to join our Competition Team
It is always nice to be part of a team that supports each other. We work with our students that would like to compete in tournaments preparing them for Kata or fighting competitions. This is another element of our training preparing students and giving them the confidence to compete.
YOUR CHILD WILL GROW IN AN ENVIRONMENT THAT IS SAFE, POSITIVE AND STIMULATING.
KARATE HAS ALWAYS BEEN A GREAT ACTIVITY FOR CHILDREN
There have always been challenging environments for children, peer pressure can lead kids down the wrong path of being a bully or becoming a victim of a bully or bullies.  Being part of our school and taking karate classes for kids becomes a prevention tool. Some of the benefits of studying martial arts are:
Children who have learned to defend themselves become less likely to become a target of bullies because of the self-confidence they exhibit.
Learning karate fighting skills help children become less aggressive and overall, more resilient.
The decline in our children's fitness and health levels has become a serious national problem. However, Kanreikai Karate of Connecticut can help children maintain healthy fitness levels by exerting themselves through our karate classes while learning basic skills, kata and fighting techniques that improve them individually.
At our karate school, we offer your child the opportunity to develop completely with confidence … while having fun!
View our class schedule!