Martial Arts Karate Ranking System in Danbury Connecticut
All 
World Kanreikai Karate Schools
 use the same
ranking system
to ensure the equivalence of belt levels within the organization.
Technical requirements
are pre-established for every tip or belt level.
A student must satisfy these requirements, accumulate a minimum number of training hours  and work hard before being invited to take part in a promotion test. We encourage effort and assiduity and all our students must "earn" their tip or belt. They are all the more proud and satisfied!
Educational tools are available online as extra teaching materials. Our students can always access them.
REQUIREMENTS PER RANKING LEVEL
You will find below the hyperlinks leading to the lists of technical requirements per rank that are used for Tip and Belt Promotion tests at all Kanreikai Karate Schools.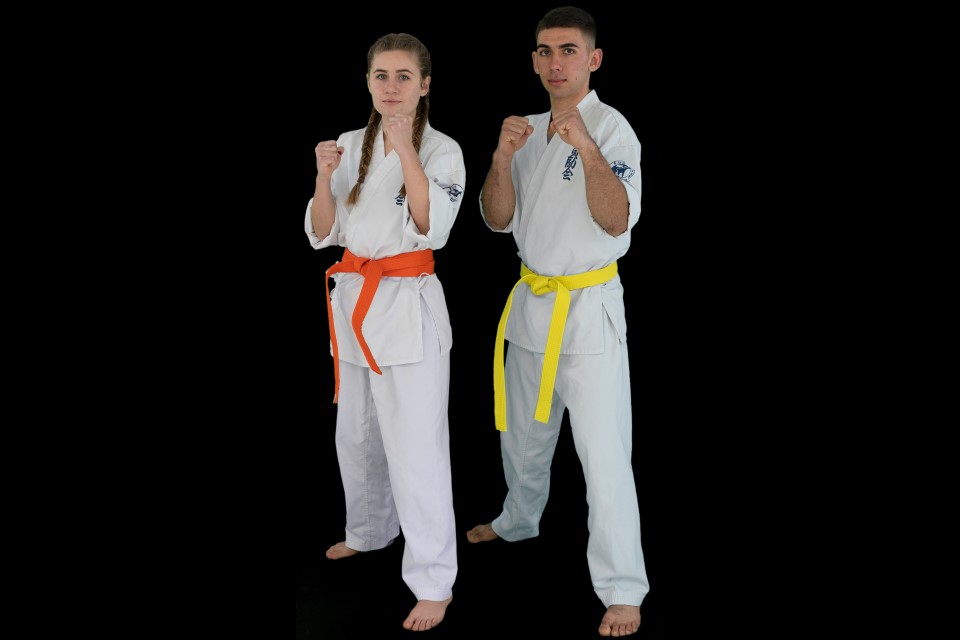 As a Registered Member of the World Kanreikai Karate Organization, you have access to our series of tutorial videos that complement your training at the dojo.
Two of these series are featuring our Grand Master Hanshi Manny Matias as he executes Basic Techniques (Kihon) and Kata Forms – all part of the students' curriculum at all World Kanreikai Karate schools.
The third series presents Fighting Techniques (Kumite) executed by selected Kanreikai Instructors.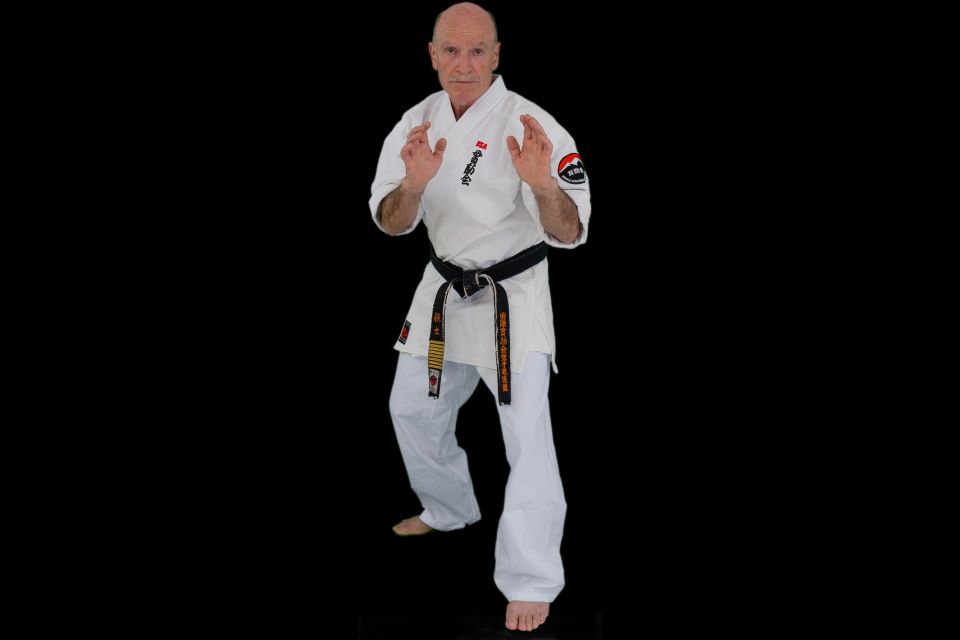 LEVEL
BELT – TIP
KYU
MEANING
BEGINNER
WHITE BELT
10
PURITY
BEGINNER
BLUE TIP
9
 
BEGINNER
BLUE BELT
8
COMMITMENT
BEGINNER
YELLOW TIP
7
 
INTERMEDIATE
YELLOW BELT
6
FOUNDATION
INTERMEDIATE
ORANGE TIP
 
 
INTERMEDIATE
ORANGE BELT
5
ADAPTABILITY
INTERMEDIATE
GREEN TIP
 
 
ADVANCED
GREEN BELT
4
STRENGHT
ADVANCED
BROWN TIP
3
 
ADVANCED
BROWN BELT
2
AWARENESS
ADVANCED
BLACK TIP
1
 
BLACK BELT
BLACK BELT 1
1st

 

DAN
ACHIEVEMENT
BLACK BELT
BLACK BELT 2, 3, 4
2nd, 3rd, 4th

 

DAN
NEW BEGINNING
Kata(形)
Kumite No Kata Kihon
White Belt / Blue Tip
——————————————————
Kihon Waza (基本技) – Basic Techniques
⚫ Tachi (立ち) – Stances
Yoi Dachi
Ready Stance
Kumite No Tachi
Fighting Stance
Zenkutsu Dachi
Forward Stance*
⚫ Tsuki & Uchi (突き & 打ち) – Punches & Strikes
Seiken Chudan Zuki
Middle Section Fore-fist Punch
Seiken Oi-Zuki
Fore-fist Step Punch
Seiken Gyaku Zuki
Fore-fist Punch with arm opposite to front leg
⚫ Keri (蹴り) -Kicks
Mae Hiza Geri
Front Knee Kick
Mae Geri
Front Kick (with ball of the foot)
Mae Keage
Front High Kick with straight leg
Kakato Geri
Front Heel Kick
9th Kyu
Training Time: 20 hours
Kata(形)
Kihon Sono Ichi
Blue Belt
——————————————————
Kihon Waza (基本技) – Basic Techniques
⚫ Tachi (立ち) – Stances
Migi Ashi Mae Sanchin Dachi
Hourglass Stance with Right Foot Front
Hidari Ashi Mae Sanchin Dachi
Hourglass Stance with Left Foot Front
⚫ Tsuki & Uchi (突き & 打ち) – Punches & Strikes
Seiken Ago Uchi
Fore-fist Strike to the Chin
Uraken Gammen Uchi
Back-fist Strike to the Face
Uraken Sayu Uchi
Left-right Back-fist Strike
⚫ Keri (蹴り) -Kicks
Gedan Hiza Geri
Low Knee Kick
Soto Mawashi Hiza Geri
Round-house Knee Kick
Mawashi Geri
Round-house Kick
——————————————————
Kumite (組み手) – Fights
Two (2) two minute fights
(more/less as determined by the sensei)
8th Kyu
Training Time : 20 hours – Total: 40 hours
Kata(形)
Kihon Sono Ni
Blue Belt / Yellow Tip
——————————————————
Kihon Waza (基本技) – Basic Techniques
⚫ Tachi (立ち) – Stances
Musubi Dachi
Attention Stance (heels together, toes apart)
⚫ Tsuki & Uchi (突き & 打ち) – Punches & Strikes
Shita Tsuki
Uppercut
Furi Uchi
Hook Punch
⚫ Uke (受け) – Blocks
Jodan Uke
High Block
Chudan Soto Uke
Middle Section Outside-inside Block
Chudan Uchi Uke
Middle Section Inside-outside Block
⚫ Keri (蹴り) -Kicks
Ushiro Geri
Straight Back Kick
7 th Kyu
Training Time : 20 hours – Total: 60 hours
Kata(形)
Kihon Sono San
Yellow Belt
——————————————————
Kihon Waza (基本技) – Basic Techniques
⚫ Tachi (立ち) – Stances
Kiba Dachi
Horseback Stance
⚫ Tsuki & Uchi (突き & 打ち) – Punches & Strikes
Tettsui
Hammer-fist Strike
Tateken
Straight Punch with vertical fist
⚫ Keri (蹴り) -Kicks
Yoko Geri
Side Kick
——————————————————
Kumite (組み手) – Fights
Three (3) two minute fights
(more/less as determined by the sensei)
6th Kyu
Training Time : 25 hours – Total: 85 hours
Kata(形)
Kihon Sono Yon
Yellow Belt / Orange Tip
——————————————————
Kihon Waza (基本技) – Basic Techniques
⚫ Tachi (立ち) – Stances
Kokutsu Dachi
Back Stance
Neko Ashi Dachi
Cat Stance
⚫ Uke (受け) – Blocks
Sune Uke
Shin Block
⚫ Shuto (手刀) – Knife-hands
Shuto Uke
Knife-hand Front Block/ Strike
⚫ Keri (蹴り) -Kicks
Kake Geri
Hook Kick
Kin Geri
Groin Kick

Training Time : 30 hours – Total: 115 hours
Kata(形)
Kihon Sono Yon
Orange Belt
——————————————————
Kihon Waza (基本技) – Basic Techniques
⚫ Tachi (立ち) – Stances
Heisoku Dachi
"Feet together" Stance
⚫ Shuto (手刀) – Knife-hands
Shuto Gammen Uchi
Knife-hand Strike to the Temple
Shuto Sakotsu Uchi
Downward Knife-hand Strike to the Collarbone
Shuto Hizo Uchi
Knife-hand Strike to the Kidney area
Shuto Uchi Uchi
Knife-hand Inside-outside Strike to the Temple
——————————————————
Kumite (組み手) – Fights
Four (4) two minute fights
(more/less as determined by the sensei)
5th Kyu
Training Time : 35 hours – Total: 150 hours
Kata(形)
Kumite No Kata Tsuki To Uke
Orange Belt / Green Tip
——————————————————
Kihon Waza (基本技) – Basic Techniques
⚫ Tachi (立ち) – Stances
Kake Ashi Dachi
Hook Stance (cross-legged)
⚫ Tsuki & Uchi (突き & 打ち) – Punches & Strikes
Mawashi Uchi
Round-house Strike
⚫ Shuto (手刀) – Knife-hands
Shuto Sakotsu Uchikomi
Straight Knife-hand Strike to the Collarbone
⚫ Keri (蹴り) – Kicks
Uchi Mawashi Geri
Inside-outside Crescent Kick
Soto Mawashi Geri
Outside-inside Crescent Kick
Training Time: 40 hours – Total: 190 hours
Kata(形)
Kihon Sono Yon
Green Belt
——————————————————
Kihon Waza (基本技) – Basic Techniques
⚫ Tsuki & Uchi (突き&打ち) – Punches & Strikes
Morote Zuki
Double-fist Punch
⚫ Keri (蹴り) – Kicks
Ushiro Mawashi Geri
Spinning Back Kick
——————————————————
Kumite (組み手) – Fights
Five (5) two minute fights
(more/less as determined by the sensei)
4th Kyu
Training Time: 55 hours – Total: 245 hours
Kata(形)
Kihon Sono Yon
Green Belt / Brown Tip
——————————————————
Kihon Waza (基本技) – Basic Techniques
⚫ Tsuki & Uchi (突き&打ち) – Punches & Strikes
Mawashi Hiji Uchi
Round-house Elbow Strike
Ushiro Hiji Uchi
Straight Back Elbow Strike
⚫ Uke (受け) – Blocks
Chudan Morote Uke
Middle Section Inside-outside Double-hand Block
——————————————————
Kumite (組み手) – Fights
Six (6) two minute fights
(more/less as determined by the sensei)
3rd Kyu
Training Time: 65 hours – Total: 310 hours
Kata(形)
Kumite No Kata Keri
Bo – Kihon Sono Ichi
Tonfa – Kihon Sono Ichi
Brown Belt
——————————————————
Kihon Waza (基本技) – Basic Techniques
⚫ Tachi (立ち) – Stances
Moro Ashi Dachi
Straight-feet Stance with one foot front 
⚫ Tsuki & Uchi (突き & 打ち) – Punches & Strikes
Nukite Zuki
Spear-hand Thrust (with fingertips)
Hiji Age
Straight Front Elbow Strike
——————————————————
Kumite (組み手) – Fights
Seven (7) two minute fights
(more/less as determined by the sensei)
2nd Kyu
Training Time: 90 hours – Total: 400 hours
Kata(形)
Kihon Sono Hachi
Kaiha
Bo – Kihon Sono Ni
Tonfa – Kihon Sono Ni
Nunchaku – Kihon Sono Ichi
Brown Belt / Black Tip
——————————————————
Kumite (組み手) – Fights
Ten (10) two minute fights
(more/less as determined by the sensei)
1st Kyu
Training Time: 130 hours – Total: 530 hours
Kata(形)
Shotei
Bo – Chi-on
Bo – Souki
Tonfa – Kihon Sono San
Tonfa – Kihon Sono San
Black Belt / Yellow Tip
——————————————————
Kumite (組み手) – Fights
1st Dan: Fifteen (15) two minute fights
(more/less as determined by the sensei)
1st Dan
Training Time : 140 hours – Total: 670 hours